Sale!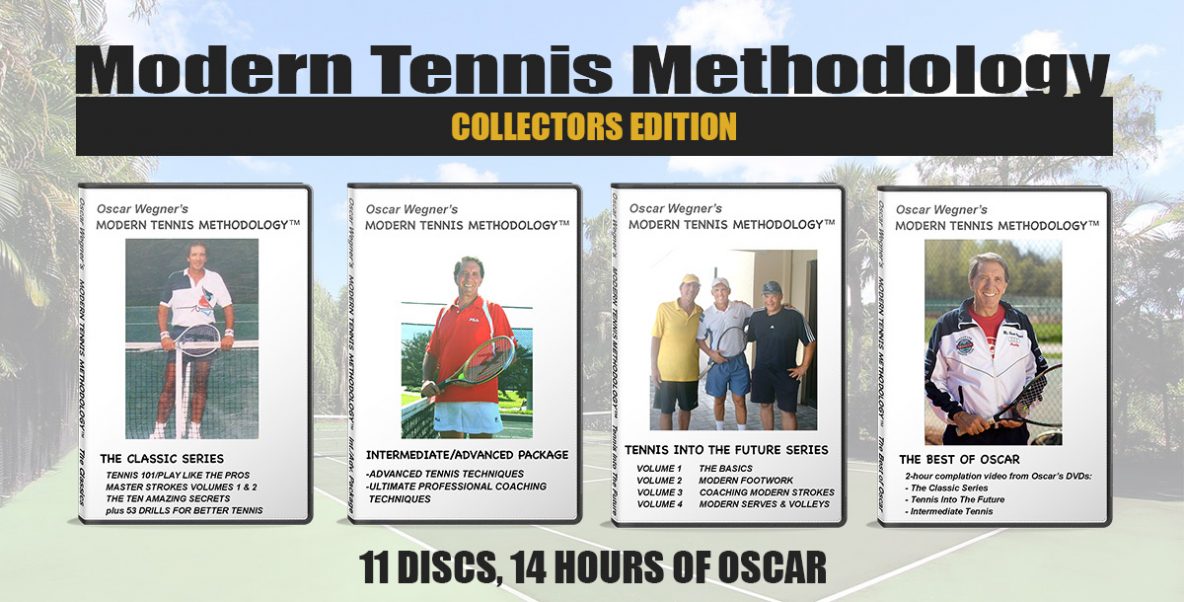 Ultimate MTM Collection (DVD Set)
$225.00
Change your game forever with the Ultimate MTM Collection – 10 DVDs + bonus Best of Oscar DVD. 11 DVDs with 700 minutes of lessons, including the four new DVDs TENNIS INTO THE FUTURE Vol. 1 THE BASICS, Vol. 2 MODERN FOOTWORK, Vol. 3 COACHING MODERN STROKES and Vol. 4 MODERN SERVES AND VOLLEYS and the new release, "The Best of Oscar".
Out of stock
Description
Superb, unique, the most advanced tennis INSTRUCTION ever. New DATA. Astounding results.
RECOMMENDED ORDER OF VIEWING:
These materials are very revolutionary and may shake INSTRUCTIONS you had reinforced for years. Therefore, even for experienced players and TEACHERS, it is best to view the video lessons in this order: Tennis 101 (50 minutes), Play Like the Pros (50 minutes), Master Strokes Vol. 1 (50 minutes), Master Strokes Vol. 2 (50 minutes), The Ten Amazing Secrets to Tennis Success (50 minutes), Advanced Tennis Techniques (42 minutes), Ultimate Professional Coaching Techniques (46 minutes), Then review the new Basics, Modern Footwork, Coaching Modern Strokes and Modern Serves and Volleys. BONUS: 53 Drills for Better Tennis.
Tennis 101/Play Like The Pros (Classic Series)
The perfect introduction to Oscar's Modern Tennis Methodology (MTM™), Tennis 101 takes you STEP BY STEP through the essentials in an easy-to-follow progression of the fundamentals. Not for beginners only!
Master Strokes Vol.1 & Vol. 2 (Classic Series)
Divided into 2 sections, Master Strokes takes you through all the shots one by one, reviews the best forehands and backhands of all time, and offers important tips on grips, topspin, footwork and more.
The 10 Amazing Secrets (Classic Series)
In this DVD Oscar points out the underlying causes associated with poor stroke execution and offers 10 secret solutions to help you avoid or CORRECT these pitfalls.
Advanced Tennis Techniques (Intermediate/Advanced PACKAGE)
Delving deeper into groundstrokes, the serve and the volley, in Advanced Tennis Techniques Oscar clarifies critical points and offers vital tips in a multitude of topics, including how TO APPLY subtle elements and changes to your GAME.
Ultimate Professional Coaching Techniques (Intermediate/Advanced PACKAGE)
This DVD is considered by many to be one of Oscar's finest in explaining how players at the intermediate and advanced levels can APPLY the techniques used by the pros to improve timing, feel, POWER and control, including solid on-court demonstrations and an invaluable section on how to effectively execute the modern twist serve.
Tennis Into The Future Vol. 1 – The Basics (Tennis Into The Future Series)
First in a new series of DVDs, The Basics sheds new light on the fundamentals of MTM™ and ADDRESSESthe issues that have kept players and coaches in the dark until now. This DVD is a great 21st century introduction for those new to MTM as well as a timely review for EXISTING followers of Oscar's method.
Tennis Into The Future Vol. 2 – Modern Footwork (Tennis Into The Future Series)
Full of surprises, probing questions and amusing moments as well as clips demonstrating the principles discussed, Modern Footwork will entertain and enlighten viewers. A fascinating interview on biomechanics with a leading chiropractic sports specialist is also included.
Tennis Into The Future Vol. 3 – Coaching Modern Strokes (Tennis Into The Future Series) 90 minutes
Revolutionary! Ahead of the industry! 29 segments full of astonishing DATA which will deeply affect tennis coaching. Taking players to a new level with the APPLICATION of astoundingly simple techniques that you only see EMPLOYED in full by the top players in the game. It took them years to find this by PRACTICEand trial and ERROR. With this knowledge, it will take you just hours.
Tennis Into The Future Vol. 4 – Modern Serves and Volleys (Tennis Into The Future Series) 90 minutes
Reveals Oscar's secrets on 2 of the most critical yet misunderstood components of the game, the serve and the volley. A COMPLETE, thorough description that will take your serve and your volleys to a whole new level of power, accuracy and ease. Includes drills.
53 Drills for Better Tennis (65 minutes) can be viewed anytime.
If you like Roger Federer's, Serena's, Djokovic's and Nadal's games, although a bit different, you'll see them in the techniques of this book, with all strokes described in detail.
Oscar Wegner used and implemented these techniques both in Spain and in Brazil, laying the groundwork for incredible results that are still confounding THE EXPERTS. He is introducing them to the USA, starting with the New Tennis Magazine show in 1991. Richard Williams used these techniques to teach Venus and Serena, and Chan Srichaphan to coach his son Paradorn, the Asian sensation that beat Andre Agassi at Wimbledon in 2002. Oscar's first BOOK, published in 1989, was acquired by the Russians that year and changed their juniors' coaching system, helping develop many of their top players of today. Brazilian Gustavo Kuerten, NUMBER 1 in the world in 2000, learned with this system in Oscar's visits to Brazil, starting on it as a five year old and helped personally by Oscar through his early teenage years. Several Argentinians now top players grew influenced by Oscar's teachings through ESPN for Latin AMERICA from 1994 to 2000, and their coaches learned Oscar's modern tenets as well.