MTM 4 Kids
Miracles with Kids that Parents can Produce Themselves
Oscar's MTM fits kids perfectly. It's simple, totally natural, and easy to learn. No complications: kids stand, walk, turn and run their own way. They are taught not to rush to stroke, and then brush the ball up and across for a prolonged feel. Finishing with the racquet in the back pack, or taking a picture with the butt of the racquet to where the ball just went promotes a smooth, efficient stroke and a marking memory, easy to repeat."
Kids love to rally, and MTM teaches this at a slow ball speed within the first hour of instruction, making it easy to get the ball in the court all the time. Balance and control are intrinsic to MTM and people in general love control and ease."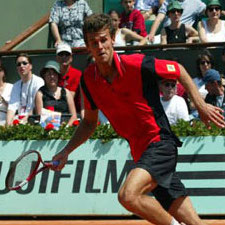 Guga Kuerten
The best of all, three-time French Open Champion and Number One in the World, 2000. Oscar coached Guga in Florianopolis, Brazil and the USA from a very young age until he completed the competition in the14 and under Orange Bowl. (Watch Guga Play)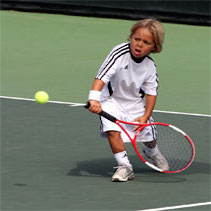 Jan Silva
From Jan Silva's father in 2005: Oscar, you asked if Jan benefitted from your teachings, and if so to what extent. As you know, he is 4 and he would sit up as a 1 year old and watch James Blake's matches at the Hamlet Cup. He would also watch and still does your video Play Like the Pros. Jan has strokes that Pro Tennis Players see and can't believe. He has the ability to watch someone hit a ball and then copy what they do. Jan spends several hours each day hitting against our sliding glass door as well as his clinics and lessons, but the biggest influence to date has been what you have given in your video tapes which let us know that he can be as good as any of the best in the world as long as he plays like them. Thank you, Oscar. Scott Silva. November, 2005.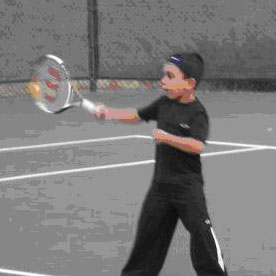 Noah Gampel
After sensing something wasn't right watching our children take lessons from different pros, I did some research and bought Oscar Wegner's DVDs. They made perfect sense so I called Oscar whereupon he sent me to an MTM certified coach, John Carpenter. My 4 year old Noah and 8 year old Leah have been taking lessons from John for a few weeks. The improvement has been incredible. I could not even anticipate my daughter looking like a pro in such a short time, achieving a 144 ball rally in three weeks of lessons. Watching my 4 year old son rally like a little pro makes me feel both are getting world class coaching. But the biggest gift John and MTM has given them is a love to play tennis that did not exist before. Now they always want to play. Yury Gampel, Calabasas, CA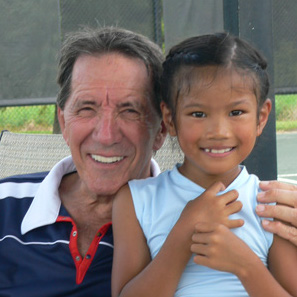 Charisma Nuqui
Charisma is a prodigy from the UK. Her father purchased Oscar Wegner's DVDs and began teaching her with them. Oscar has worked with her personally on two occasions along.From her father: Hi Oscar, I just wanted thank you again for the great 2 day course (level 4-5 Next Generation Romford U.K) and also spending time to look at my daughter and giving me tips to help her progress. After meeting you and Jorge I think she has an even a bigger interest in tennis. Chris Nuqui, Charisma's father and coach.PS. from Oscar: Charisma was 7 in my first visit to England, Her father taught her initially from my book and DVDs, and she almost never misses on groundstrokes. The length of her rallies is extaordinary. (Watch Charisma Play)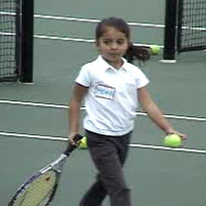 Miranda Ramirez
From Miranda Ramirez' father in 2005:Your tapes were the answer to our prayers. The simplicity of the techniques make it enjoyable for Miranda. She is only 5 1/2 years old and really enjoys tennis because she is successful at it, mainly because of your simple techniques to play like the pros. When we came back from seeing you in St. Louis, we tried the counting to 5 exercise, and we had AMAZING results. Miranda seemed more relaxed and patient. Overnight this 5 1/2 year old little frame started to hit with more control and consistency. Sincerely, Santiago Ramirez .
More news (May 15th, 2006):
Oscar, I wanted to give you some exciting news. Miranda entered her very first tournament this weekend, played 3 matches and came home with the first place trophy. She had to play someone who drove in from TN in the finals and came away with a 6-0, 6-0 win. The smile on her face throughout the weekend was priceless. She is already looking forward to getting back on the court and doing it again. Thanks for all of your help. Hope to see you soon again. Thank you, Santiago Ramirez